Facebook has been grabbing headlines recently with an array of new features to enhance its role as a centralized 'hub' where users can carry out virtually any activity. Within just a week, the network has launched instant articles for all iPhone users and has announced that it's testing dedicated video and shopping feeds. Here's why these moves are a good thing for Facebook.
1. Challenging Twitter and Snapchat with Instant ArticlesHot on the heels of Twitter introducing "Moments", Facebook has launched its aptly-called "Instant Articles", available for all iPhone users using the Facebook app. New articles uploaded by partner publishers will now load ten times faster than a standard mobile web article, and will be accompanied by a lightning bolt to indicate its "instant" status (virtually the same as Twitter's "Moments" lightning bolt icon). This move makes absolute sense for Facebook: for over a half of users, the network is already a natural go-to point to read news stories, while "staying up-to-date with current events" is the second most important reason why this group use social networks. On average, Facebookers spend 1.2 hours of their day reading online press and Instant Articles is an clear attempt to encourage users to spend this time on the network, rather than turn to news sites or competing apps with similar features, like Twitter's "Moments" and Snapchat's "Discover".
2. Making Social Commerce EasyWith two-thirds of Facebookers purchasing products online each month, it's not surprising that the network is trying to capture this potential revenue with a dedicated shopping feed – a single place where users can browse and buy the different products being showcased across the network. Social networks are already an established product research channel for Facebookers: 36% say they use social networks to research brands and products, putting them just behind search engines and consumer reviews as the most popular research channels. But this doesn't necessarily translate into decent social commerce potential: globally, only 9% are interested in the prospect of buying directly through a social network (using a 'buy' button for instance), though there are peaks in markets like the Philippines (19%) and Indonesia (16%). But it seems that the majority of Facebookers will need some convincing that using social networks can be just as secure and convenient as buying through the e-commerce leaders like Amazon and eBay.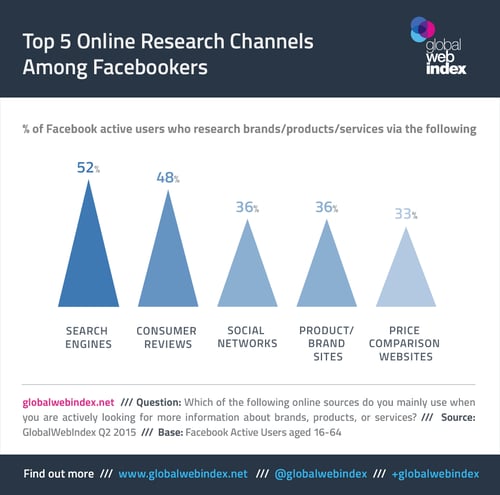 3. Introducing a Dedicated Video FeedWith recent releases like 360-degree videos and live streaming from celebrities, as well as it now testing a dedicated video feed, it's clear that Facebook is determined to grow its video prowess. 44% of Facebook users say they use social networks to find entertaining content but a significant proportion go to leading player YouTube for this: 9 in 10 Facebookers visit YouTube each month, a number that shows no sign of slipping. Facebook's move into video should encourage its growing number of content-enthusiastic users to remain on the platform for video content rather than divert to YouTube. And should Facebook be successful in doing so, this can only be good news for brands advertising on the platform – especially considering that a quarter of Facebookers watch branded videos each month and that the online video market is moving to the forefront of advertising.