Much has been written about Apple's ambitions in China, where an affluent, mobile-first internet population has become a key target audience for the company.
It's easy to see why Apple has its eye on China. This market can boast the highest smartphone ownership rates among GWI's 33 surveyed countries (87%). What's more, it has by far the largest number of smartphone owners (400m).
So, how is Apple doing in its quest to conquer a part of the Chinese tech market? Here are 4 ways that the company is currently winning over Chinese fans.
1. iPhone is the most wanted phone brand in China
In terms of current ownership rates, Samsung might still have a slim lead over the iPhone in China but it's Apple that is in the lead when we look at future purchase consideration; about 50% more people are looking to buy an iPhone compared to a Samsung. Considering that 23% of Chinese internet users say they own an iPhone already, it's clear that Apple has the potential to become the market leader.
2. iPad trumps Android tablets in China
In general, the iPad tends to perform best in more mature markets, while Android dominates the tablet landscape in emerging countries. However, things aren't so simple in China. Having been neck-and-neck over the past few quarters, the iPad has now pulled ahead. Significantly more Chinese internet users report owning an iPad compared to an Android tablet (with 1 in 5 using Apple's device).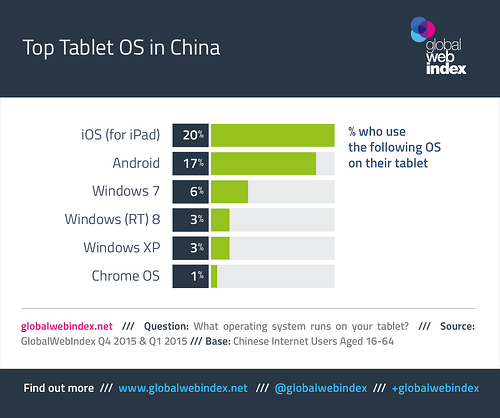 3. More iPhone 6 Owners in China than the USA
The iPhone 6 has been one of Apple's greatest successes in recent years and the importance of the handset to the company's prospects in China is clear. North Americans may be the most likely to have bought a 6 handset but it's already 4% of internet users in China who now own one. In real terms, that means there are now more iPhone 6 owners in China than in Apple's home market of the USA.
4. iTunes now as popular as Google Play in China
While Google Play can claim a sometimes significant lead over iTunes in most fast-growth markets, the importance of iTunes in China has been growing in recent quarters. Just as more Chinese consumers are getting hold of iPads and iPhones, so more and more are migrating to Apple's content platform. 21% now use iTunes each month.