To start the week, we draw on more data from our World Cup Sponsor Recognition Levels trend (download a copy here) to compare awareness of the official partner brands against that of their competitors.
Based on research conducted over the last weekend of the tournament among internet users in Brazil, the US and UK who said they'd been watching matches, the power of sponsorship is patently clear: in each case, the World Cup partner tops the list in its respective sector. Official association with the tournament does therefore have a direct impact on audience awareness.
In some cases, the official sponsors were considerably ahead of competitor or ambush brands. McDonald's, for example, was 33% in front of the next most selected food provider (Subway, on 16%). It scored even bigger victories over its closest rivals Burger King (9%) and KFC (7%). Likewise, Coca-Cola was three times more recognized than its fiercest competitor Pepsi (on 17%) while Budweiser (26%) was twice as identifiable as Heineken (13%).
In other sectors, though, the contest was much closer – especially in terms of sports brands where Adidas (36%) was only just ahead of Nike (31%). MasterCard (25%) also remains a strong challenger for official partner Visa (41%), despite the latter increasing its lead during the competition.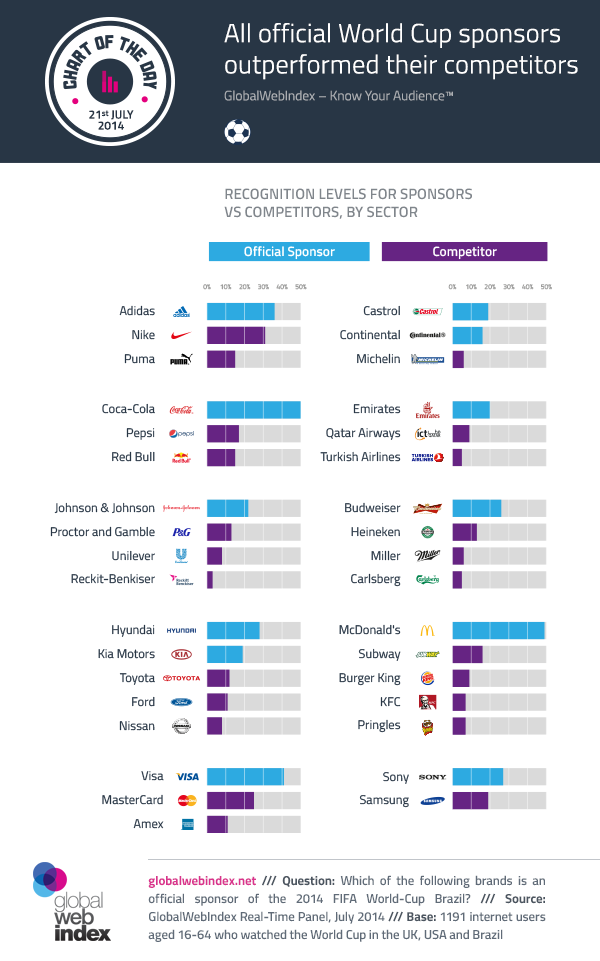 To explore the reasons behind these figures, please download our trend document.