While market research is more relevant than ever, the business model for distributing data has barely evolved in last 20 years. The vast majority of market research studies still happen behind closed doors, with the data and insights limited to a small user base. One of the original goals of the GlobalWebIndex was to set out to transform this model, democratising research by making it accessible to the widest possible user base. Today marks a major step forward on this journey, as we announce the launch of the GWI Insight Store.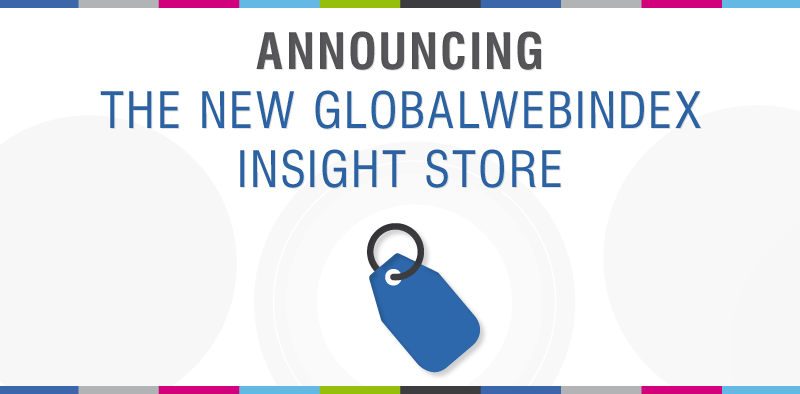 The Insight Store will feature 10,000+ data packs and reports, covering 31 markets and all connected platforms and consumers. Data packs are segmented by key demographics and available at a global, regional and local market level. Data is available for download on-demand via the purchase of bulk credits, which are redeemed against data packs and reports.
The massive scale of the web enables us to connect our data directly to the millions of users around the world. Internet scale also allows us to drive down the cost of accessing that research, truly democratising consumer insight by offering access to clients of all sizes.
The heavily tiered model enables every buyer to get value. Pro licence holders will get unlimited, unmetered access. Crucially, they will also get to customise the data, apply their target audiences and access experts from our consulting arm, Stream– a must for the regular data user.
We believe the GlobalWebIndex Insight Store is a disruptive model for the market research industry, allowing the long tail of marketing & business planners to get access to the world's largest digital consumer insight study on any terms they want. No more drawn-out buying processes, high entry fees or inflexible contracts.
For GWI this is just the beginning and we are currently developing a complete suite of end-to-end digital marketing tools that anyone can use on their own terms. We look forward to rolling out further innovations over the course of the next 12 months.
Sign up today at https://www.globalwebindex.com/signup/