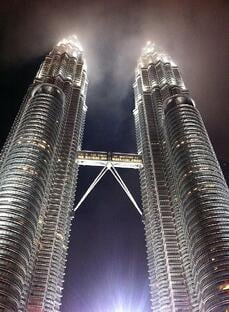 This week, I began a GWI tour of Asia – having been invited to visit the region by WeChat, the global messaging app which has a particularly significant audience in the APAC region.
My first stop is Kuala Lumpur in Malaysia, where I'm presenting to a number of the country's leading press and tech titles on the latest trends in mobile messaging.
To mark the event, we've just released our brand new Q3 2014 Market Report for Malaysia, which you can download here.
The rising importance of mobiles is also a key trend in this market; the numbers going online via this device have jumped from 57% back in 2012 to 76% in 2014 – underlining one of the reasons why messaging apps have become so popular. Year-on-year, we've in fact seen a 55% rise in the number of Malaysians using instant messenger services via mobile. One of its major headlines is just how social the online audience in Malaysia is – a mighty 95% of the country's internet users aged 16-64 have a Facebook account, making it one of the top markets for the network. Indeed, Facebook's popularity was apparent in every
conversation I had – it's a major way for people to stay in touch with what's going on, and few could consider the idea of not being on the network. Nevertheless, Malaysians are definitely in line with the global
trend towards multi-networking – around three quarters have accounts on YouTube and Google+ too.
Ride any metro or bus in the city and the centrality of these devices to daily life is abundantly clear; no need to worry about accidentally catching someone's eye as everyone is glued to their phones.
For further discussion of these trends, as well as a range of other topics covering everything from e-commerce and wearable tech to brand engagement and gaming behaviors – please see the full version of the report, available from the Insight Store.