In our last post, we marked the 30th birthday of Apple's Mac device by looking at its global progress to date. We continue this theme here by tracking its user numbers against those of the iPhone.
What's immediately clear from a Mac vs iOS comparison is that the iPhone is giving Apple a much bigger and broader reach. By the end of 2013, 4% were using Macs – representing an estimated 53 million people. But some 20% of smartphone owners were using an iPhone, a figure which translates to an approximate audience size of just over 230 million – nearly five times greater than that of the Mac. The iPhone's growth curve since 2011 is also somewhat steeper.
But perhaps the most significant difference comes when we look at the top 10 countries for each device. For the Mac, this list comprises Australia (leading the way at 12%), followed by the USA, Canada, Sweden, Singapore, Hong Kong, the UK, Ireland, Italy and France. The common thread here is market maturity – with many of the fast-emerging internet markets having penetration rates of just 1% or 2%.
When we turn our attention to the iPhone, though, the top 10 list is populated by the US (top at 42%), followed by Australia, Canada, Singapore, Sweden, Thailand, the UK, Japan, Hong Kong and Saudi Arabia. Clearly, there's a lot of overlap between the two lists. But the presence of Thailand (31%) and Saudi Arabia (27%) is highly significant, and reflects a general trend of iPhones doing much better in emerging internet markets than the Mac. Indeed, among Apple's portfolio it's the iPhone that has fast emerged as its truly global product.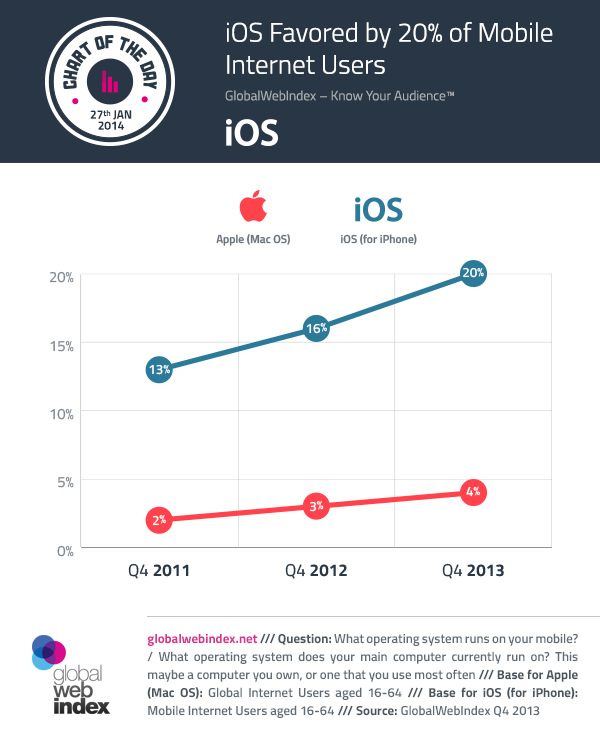 For more insights on the latest trends in device usage and adoption, check out our new GWI Device report, released next week.