Today, we are excited to announce the release our Q1 2013 research. With this latest wave of data, we can now see quarterly trends within the GWI dataset for the first time. This also marks the first wave of the GlobalWebIndex to be released in 2013, making it the most up-to-date dataset concerning online consumer behaviour around the world.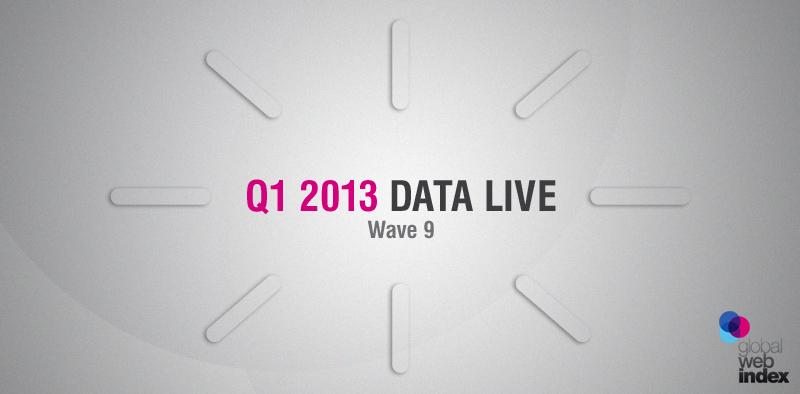 There are also a few exciting changes to the Q1 2013 wave that we want to highlight:
We've added three new answer options to our online activities question for each of the device types: PC/Laptop, mobile, and tablet. They are as follows:
Checked weather online
Played an online game
Checked information on music, leisure, or entertainment
The two major Chinese microblog services, Sina Weibo and Tencent Weibo, have now been asked at a global level as part of our social platforms question.
With these key additions in the online behaviour category, all PRO users will now be able to measure their audience's usage of some of the most common internet activities across PC, mobile and tablet. For media owners and marketeers alike, these additions will, for the first time, offer insight into the type of users using these services across each of these devices.
Furthermore, by observing the two major Chinese services at a global level, we will now be able to measure the impact of emerging market internet services on the global internet universe. The reason that measuring this shift is so important is that emerging markets are increasingly driving the global internet, and these services can be thought of as bell-weathers among emerging market internet services and their ability to gain traction outside of the home markets.
As we move through Q2 2013, we'll be continuing to release reports, inforgraphics, and content that builds on this latest Q1 2013 GWI research and the trends are constantly emerge from the data. At the same time, we encourage all PRO users to dig into the PRO tools and discover what these emerging trends mean for their own campaigns, brands, and target audiences.