In Tuesday's chart, we saw which countries are making the most mobile payments. But growth rates in some of those markets, like India and Thailand, has slowed. In today's chart, we will be exploring in which regions growth is taking hold the most.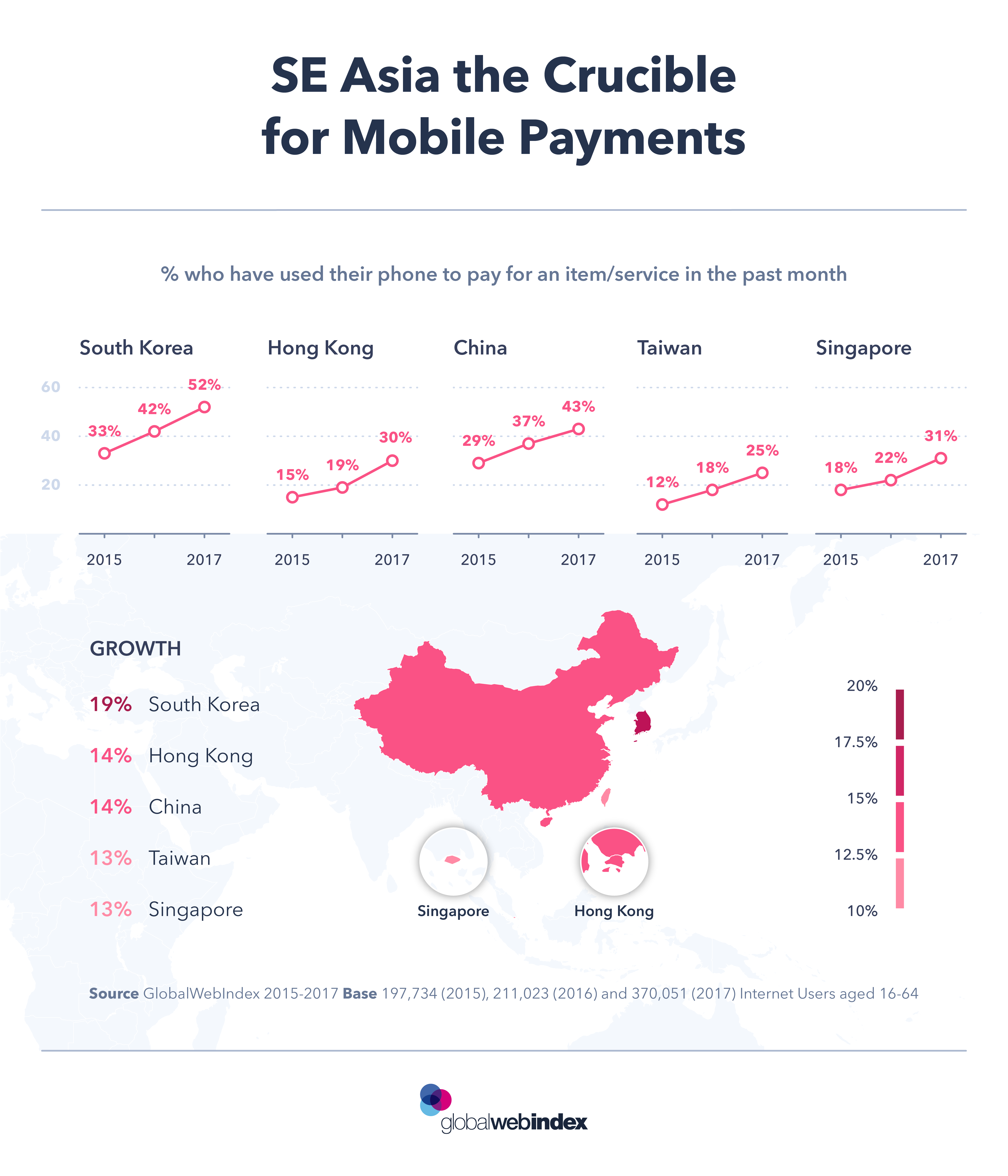 The top 5 markets for growth are currently all in South East Asia, where internet users skew young, and are mostly mobile-first. Coupled with relatively less developed financial infrastructures, mobile payments are an important part of the financial ecosystem.
Outside of Asia, there's also been good rates of growth in Western markets like the UK (+12%) and Belgium (+10%), where banks have taken the initiative to create their own app solutions (like Payconiq in Belgium and the Netherlands), or payment acceptance has rolled out across public transport networks, as it did in London.
But much of the growth in mobile payments is coming from China, with both Alibaba's Alipay and Tencent's WeChat Pay looking to make inroads in their neighboring countries.
Alibaba in particular has utilized an agile expansion strategy whereby it takes controlling stakes in services like Kakao Pay in South Korea, Paytm in India and HelloPay in Singapore. The last of those is particularly important, as it gives Alibaba a foothold into the Lazada ecommerce structure and it would allow them to incentivize Lazada shoppers to make mobile payments with deals and discounts.
Samsung and Apple Pay are eyeing up these fast-growth markets as well, though Chinese services benefit from an approach which does not rely on credit cards, branded hardware, and favors QR codes over near-field communication technology.
The mobile payments landscape looks set for fierce competition over the coming years, as telcos, banks and independents all look to make a stake in the technology.