Recently, the subject of social networking among teens has been receiving a lot of attention – a subject we've previously addressed here, where we noted that Facebook's numbers for 16-19s were still considerably ahead of those enjoyed by any other network.
However, it's certainly true that Facebook (along with some of the other major social platforms) saw declines in active usage among teenagers during 2013. For that reason, it's interesting to look at age breakdowns for active user bases across ten leading platforms.
What's strikingly clear from these figures (drawn from January 2014 release of data) is that it's the 25-34 group – rather than 16-24s – who form the biggest share of users on nearly all them, including Facebook (29%), Twitter (31%) and Google+ (31%). In contrast, 16-24s are the leading age group only on YouTube (32%), Instagram (39%) and Tumblr (45%).
Of course, the size of the youngest audiences on the largest networks still remains significant: Facebook's estimated audience of 16-24s, for example, comes in at a mighty 133.45 million. But our data does nevertheless suggest that the age profile of users on the biggest networks is shifting upwards a little.
As we've said before, Facebook is anything but "dead and buried" for teens, but it doesn't seem to command the type of automatic appeal that it once had in the youngest age groups. Quite simply, those who joined the biggest platforms a few years ago are staying loyal to them – it must be telling, for example, that 25-34s are most dominant on Myspace – while younger networkers are instead embracing some of the newer or less-established sites a little more fervently.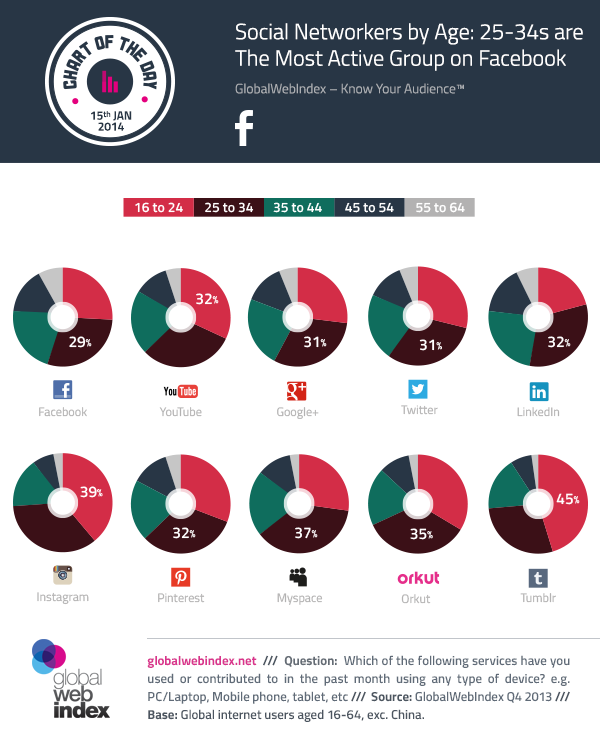 For more insights on the current usage of social platforms, take a look at our new GWI Social report.