With Facebook snapping up Masquerade, Twitter pushing Periscope and Snapchat's new 'Chat 2.0' update expanding video functionality and video filters on the network, it's clear that the major names in social media are betting big on video. Here we outline 4 reasons why video is a safe bet.
1. 9 in 10 16-24s Watching Online Video
Watching video clips online is a fundamental internet activity. Among online 16-34s, for example, it's almost 95% who are watching video, and even among the oldest group tracked by GWI (the 55-64s) it's 8 in 10 who are engaging. What's more, about half of internet consumers are uploading their own videos online.
So far, YouTube has been the major beneficiary of this online video boom (about 90% are visiting this site each month) but there is clearly a massive demand for platforms that can easily host user-generated video and, as such, ample room for competition in this field. Social networks and messaging apps, which are so ingrained in the daily digital behaviors of internet users, are well-placed to profit from this demand.
2. 4G is the New Normal
The last two years have seen major improvements in the connection speeds available to mobile users around the world. Whereas back in mid-2014, 3G users outnumbered 4G users by about 2 to 1, nowadays internet users are more likely to be using 4G. And with better mobile internet speeds comes better opportunities for video watching, sharing and calling. Already, 6 in 10 mobile users are watching videos on their smartphones and about 40% are making VoIP calls.
And as 4G coverage spreads even further, these figures will undoubtedly rise and, in particular, this trend opens up the true potential for live-streaming – good news for Periscope and Facebook Live.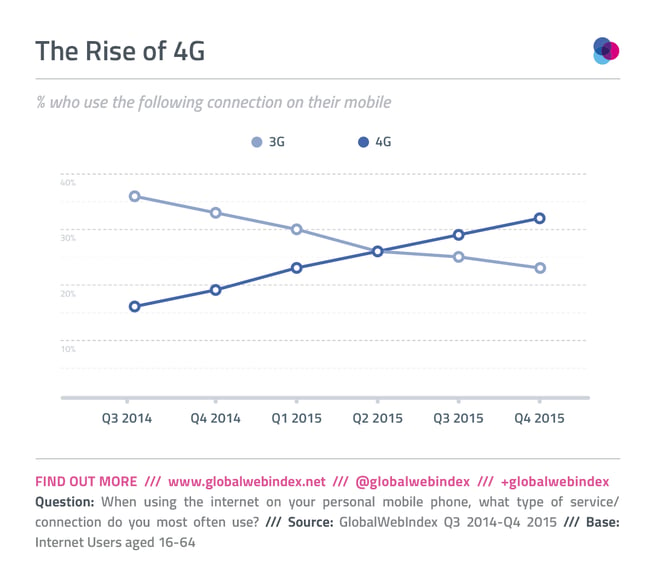 3. Half of Facebookers already watching video on the  network
Snapchat may be making noise about its video-viewing figures being not far off Facebook's but really it's Facebook which has the true potential to become a real challenger to YouTube in this space. Already, over half of Facebook active users are watching videos on the network. And with a truly global reach and the highest usage frequency rates among all social networks (GWI's research shows 75% Facebookers are logging-in daily), Zuckerberg's network is well-placed to become a natural hub for online video.
This is good news for Facebook, particularly as it campaigns to stay essential to it users, but it's also a clear opportunity for brands. With autoplay videos now the norm on users' newsfeed, the potential for targeted branded video on Facebook can hardly be over-stated.
4. Video-sharing now almost as popular as photo-sharing on Snapchat
Evan Spiegal's app may have built its reputation on ephemeral photo-messaging but Snapchatters have proved enthusiastic about taking advantage of the new video-sharing functions on the platform. While these users are still more likely to be sending photos, it's now almost as many who are sharing videos on Snapchat.
And in APAC, where Snapchat has struggled to grow in the same way it has in Europe and North America, video-sharing is almost as popular as sending photos – providing a key insight into how Spiegal's app might hope to break into Asia.