In recent months, much ink has been spilt over the introduction of "buy" buttons on services like Facebook, Twitter and Snapchat. With their young and mobile-first audiences, they've been seen as the players most likely to challenge the established names like Amazon in pushing m-commerce into the mainstream. "Buy" buttons have also been touted as the things that might finally normalize the idea of "social commerce" (already commonplace in parts of Asia, but curiously slow to catch on in other continents).
Far less attention has been paid to the development of a similar function on Google. But with the company now having confirmed the introduction of "Purchases on Google" in its mobile search results (users will be able to click on product-related ads in search results and select a checkout option), one things is suddenly – and strikingly – clear: Google is in a far better position than any social network to pull this off and to convince people to buy items outside of normal e-commerce platforms.
Let's consider some numbers. In virtually all of the biggest internet markets, Google is currently top dog when it comes to website visitation – a trend which remains consistent on mobile. In regions like LatAm and the Middle East, for example, GWI's Q2 2015 data shows that an impressive two thirds of internet users are now regular users of Google via a smartphone; even in North America and Europe, where older online populations tend to be a bit more conservative, it's around 1 in 2 online adults who are Googling via their phones. That gives the search engine a greater mobile reach than Facebook.
Even more importantly, it's Google rather than Facebook which is attracting a bigger share of the current m-commerce audience. North America is a good example of this: among those who purchased an item via a mobile last month, some 86% of them used or visited Google on their phone during Q2. That might compare to a still-impressive 78% for Facebook, but – from country to country, region to region – it's Google which posts the higher figures here.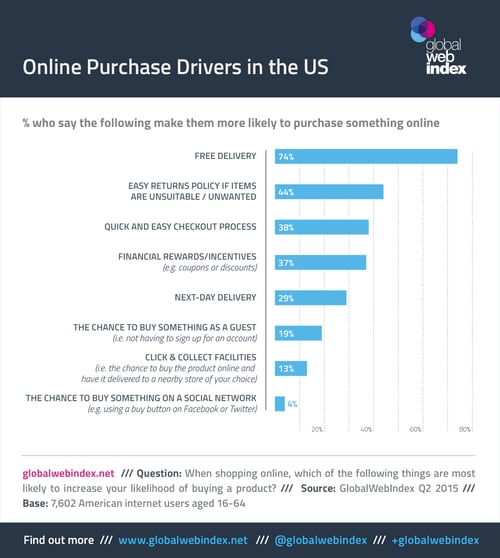 For many consumers, Google is also a much more natural go-to point when it comes to online (and hence mobile) commerce. Services like Facebook and Twitter might have young, affluent and digitally engaged audiences at their disposal but – outside of APAC – they still need to convince most of their users that "social commerce" is a convenient and secure way to buy things. Of course, Google has its own trust issues to manage (especially in Europe), but that doesn't detract from the fact that search engines are already a natural part of the purchase journey. Ask people which services they use when they are researching items they want to buy and search engines dominate over everything else; almost 1 in 2 of us say we go to them, whereas just a quarter say the same about social networks. What's more, take a country like the US and it's surely pretty telling that over a third of online adults say a quick-and-easy checkout process would make them more likely to buy online, whereas just 4% say the same about a "buy" button on a social network.
Currently, one of the biggest barriers for a name like Google has been that – after the initial query has been done – people need to navigate away from the search engine in order to explore options and complete their purchase. That's pretty dangerous in a world where the entire purchase journey (from initial query to final transaction) can be made inside a platform like Amazon. Seen in this light, the introduction of Purchases on Google makes perfect sense and will give the digital consumer the two things they prize above anything else: speed and convenience.