Capping off this week's series celebrating the commencement of the FIFA World Cup tournament, our final chart considers the opportunity for brands to drive engagement among younger fans by using mobile technologies like location-based services and augmented and virtual reality.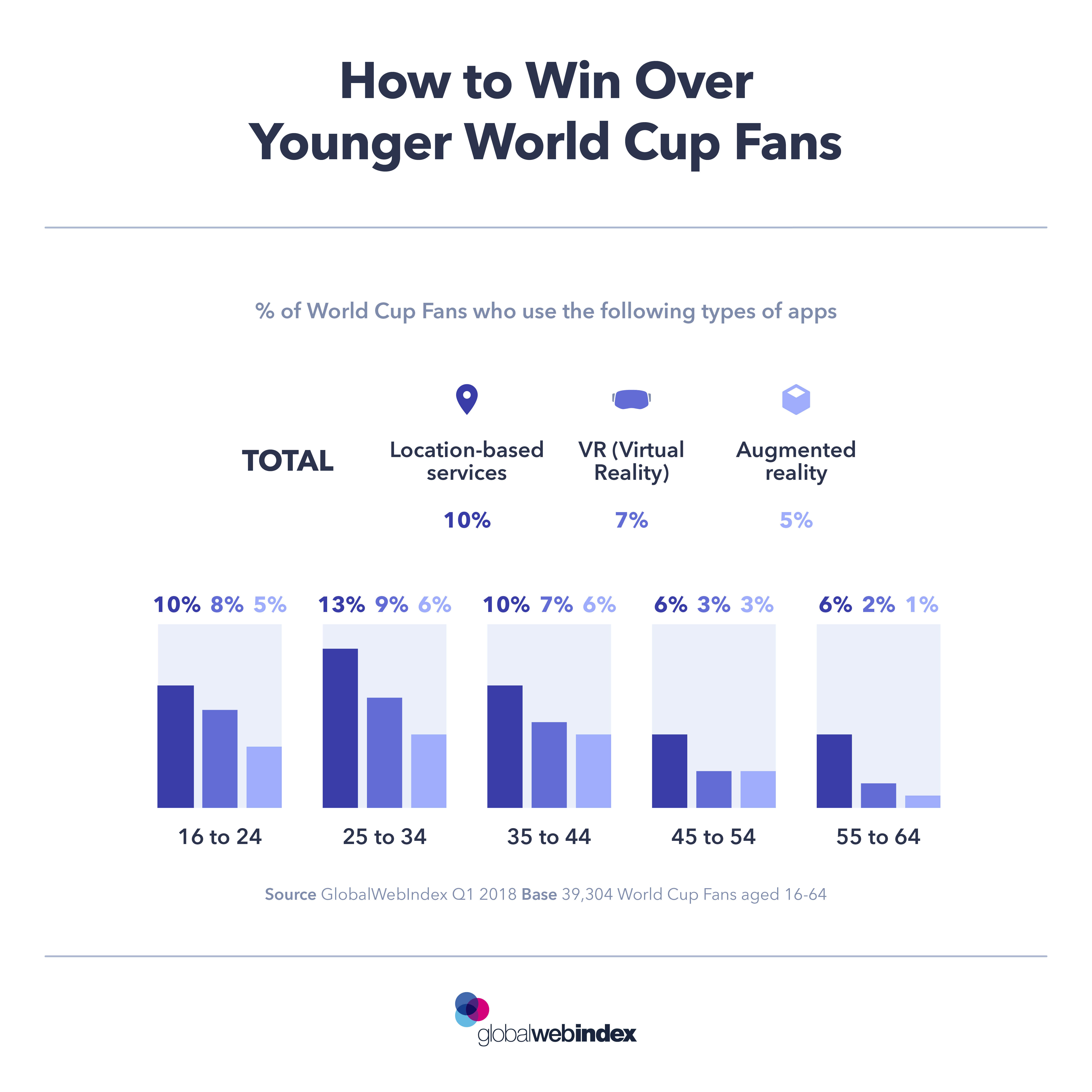 Despite the hype, engagement with augmented and virtual reality apps remains fairly low. But it's the age-based trends which matter here.
These mobile technologies see the highest uptake among younger World Cup Fans, and for many brands looking to capitalize on the buzz around the tournament, this tech will be an important means of associating themselves with the event.
The FIFA World Cup is an event which people are passionate about – it's the most watched sporting event among the 36 leagues we track.
As such, its fans respond well to having an emotional connection with the games, and it's here that brands can offer this in the form of a tech-driven experience.
Social platforms like Snapchat are well aware of this, having launched a new tool for advertisers to let them buy most of the platform's creative ad formats programmatically. These include AR lenses and location-based unique filters for users to apply and share with their friends which can be associated with the event.
Snapchat has already partnered with Fox News and Twitter in the U.S. in a tie-up to broadcast content surrounding the event, and has proclaimed its intentions to use its discovery platform to serve World Cup-associated creative ads during the tournament to reach younger fans.
Snapchat is in a strong position to capitalize on the marketing hype around AR and location-based marketing, with younger World Cup Fans in Europe and North America in particular posting strong figures for engaging with Snapchat daily or more.
World Cup Fans are defined as internet users aged 16-64 who watch the FIFA World Cup online or on TV.