Content marketing has fast become an integral component to every online marketing strategy. But why is high quality, valuable and relevant content so effective when it comes to today's digital audiences? Here, we outline four reasons why content marketing should be on the agenda for any business looking to drive audience-centric marketing.
1. 9 in 10 Watched a Video Online Last Month
The average internet user now spends well over 6 hours online per day, and with so much of this time being devoted to online content, there's a clear opportunity for branded content to make a real impact. Globally, it's a mighty 91% of internet users who are watching online videos each month, while 44% are watching vloggers and a further 39% listening in to podcasts.
Clearly, engaging with content has become a staple online activity, one which opens up significant opportunities for brands to establish meaningful dialogue with their audiences.
2. 1 in 4 Reading Branded Emails or Watching Brand Videos
Significant numbers are engaging with branded content also. Currently, around 1 in 4 internet users are reading branded email/newsletters, with a similar number watching branded videos.
It's not just outbound marketing which can drive exposure to branded content – 4 in 10 internet users visit a brand website each month, making this the most popular brand-consumer interaction point tracked by GWI.
And with slightly under a fifth interacting with brands on social media (and a further 1 in 10 sharing branded content on a social network), the crossover between content marketing and social media highlights a considerable (and growing) audience who are happy to see branded content alongside their friends' updates.
3. 26% Finding New Products on Branded Websites
Branded content is now an important first step of the purchase journey. Aside from a brand's website, 14% of internet users find out about new products through branded updates seen on their newsfeeds, and 1 in 10 do so via vlogs. This is an area where quality branded content can make a real impact, especially given that over a fifth of internet users say that they want a brand to improve their knowledge and skills.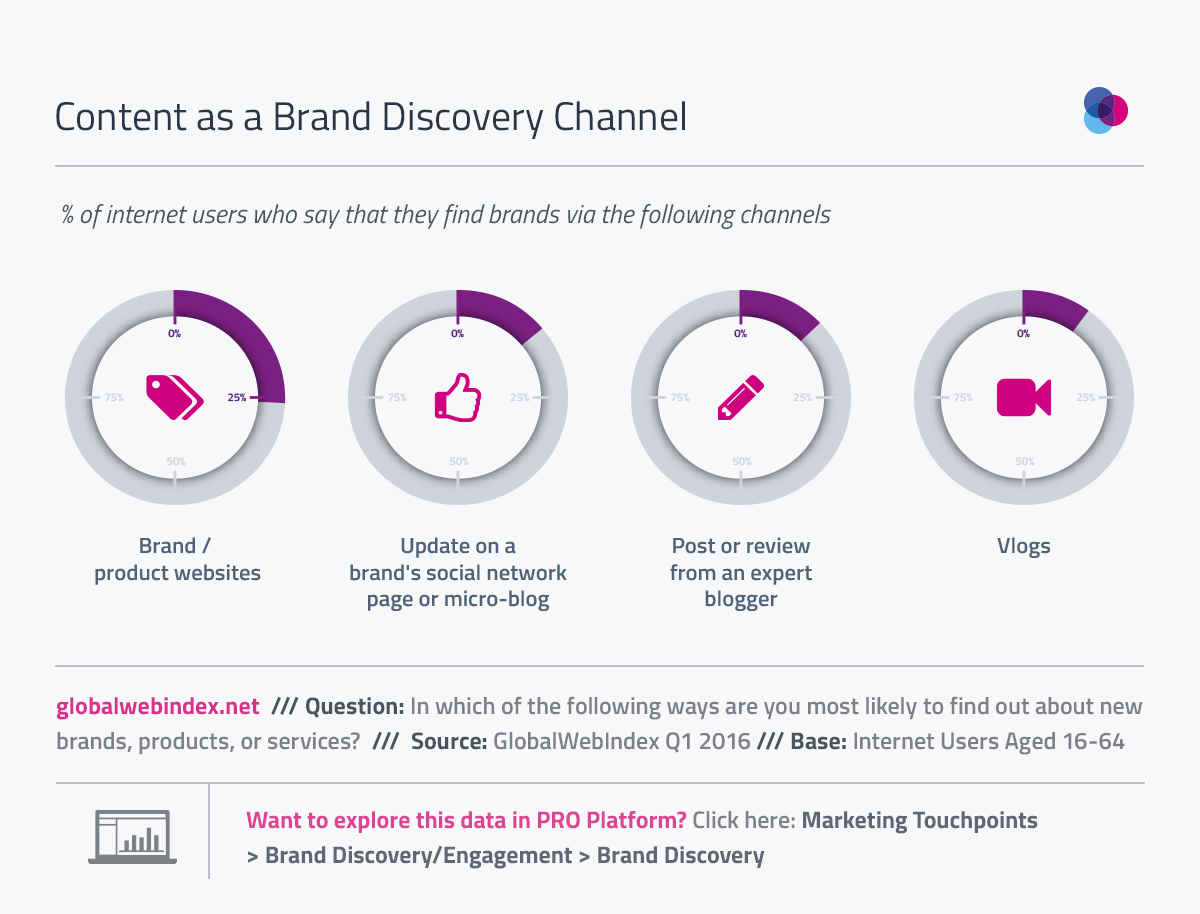 4. Content Key to Brand Advocacy
That 3 in 10 would promote a brand when something is relevant to their own interests (and 1 in 5 would do so when it's relevant to their friends' interests) is testament to the value of targeted branded content.
What's more, the value of informative branded content shines through here, with 17% saying they'd advocate a brand in exchange for having insider knowledge. Meanwhile, establishing a community through relevant and targeted content can drive a brand's reputation – 16% say they would advocate a brand because they feel like they are taking part or being involved.