It's a crazy and exciting time to be in digital media planning – especially in the agency world.
New media properties seem to pop up daily, time spent on social media is through the roof, and competition for ad space is hotter than ever.
But it's in this mayhem that independent agencies thrive. So long as they're agile enough to adapt.
Brands now look to agencies with fresh approaches to digital media planning to help them flex with the times, and reach their audiences (wherever they're hiding…) impactfully and efficiently.
Here we give you all the tips and tricks for unlocking your client's audience using insights mined from survey data, so you can feed it into your media plans, and get a clear steer on how and where to place your ads.
1. Look way, way beyond demographics and behaviors.
Every agency approaches market research differently, but the end goal stays the same:
Get to know your client's audience on the deepest level possible.
Clients may think they have a solid idea of their market, but they love being shown new opportunities – especially when you've got the data to back it up.
Here's how the team at WeAreSocial kick off their research:
"We try to answer a few specific questions around four areas: the consumer, the brand, the category and the wider culture", says Jamie Robinson, Global Research and Insight Director.
The devil's in the detail though, so once you've got an idea of where they hang out, you'll need to know more. Much more.
Don't be afraid to ask "why?". Not just why they enjoy certain social platforms, or why they find ads there annoying, but the bigger picture 'why'.
Look into their lifestyles, attitudes, perceptions, even aspirations to see what really drives their actions across the media they use. Here's a sample of the questions you should be asking:
Personality types: How would they describe themselves?
Lifestyle indicators: How do they describe their lifestyle?
Self-perceptions: Which attributes do they say they possess?
Desires: What do they want for themselves in life?
Values and opinions: Where do they place their energy and trust?
For Arya Alfieri, Creative Strategist at Kiwi, getting this level of understanding is essentially what drives the success of any campaign.
"The data gives us the tools we need to map our consumers' lives. We can build a real idea of our consumer, and then seek to understand the emotions behind the behavior, self-interests, and purchasing actions."
Every independent agency is trying to find it's 'edge' – something that sets it apart from the competition – and what differentiates good digital media plans from great ones is whether or not they have a holistic overview of their target audience.
2. Size up the market for each media outlet (with actual numbers).
Let's get to the crux of why market sizing is important and work backwards.
The big benefit for planners is seeing how many of a client's audience exist in a particular market.
A large part of a planner's job is getting accurate estimates for the numbers for actual humans who will see their ads – and translating that into predicted revenue.
When you're relying solely on the audience figures presented to you by an independent media outlet, you're placing a lot of trust in them. Yes, it might sound like the kind of media your client's audience engages with, but, you can't be totally sure they're measuring the right metrics, the right audiences, or even an accurate source.
When you supplement their data with your own, independent market analysis, you're not just quantifying your client's audience as a whole, you're able to apply that same audience across multiple media types to find the best options.
And, if you've built out your client's audience in as much detail as you can, you can filter by any age group, gender, lifestyle (you name it) to get an accurate figure for that segment.
It's the kind of flexibility that opens the door for some hyper-targeted ads.
3. Dive head-first into the cookieless future.
In the cookie-free world we're entering, the trail of digital breadcrumbs that consumers used to leave is vanishing fast. And it makes sense, consumers wanted it:
Agencies are now challenged with finding workarounds that give them the same level of oversight that cookies provided.
Sounds like bad news for media planners, but actually, it's a win-win if you're willing to invest in secure data. Here's why.
Better privacy legislation suits surveys. That's because they're fully opt-in, giving you access to the attitudes, behaviors, fears, hopes, preferences and plans of consumers – all while maintaining the privacy and anonymity of respondents.
With access to the right kind of data, collected the 'right' way, agencies can tread the line where their clients can't, measure the impact of their campaigns, make digital advertising more relevant, and, ultimately, maximize the return on their advertising spend.
4. Take your channel analysis further. Get harmonized.
The way we consume content, and our relationships with brands has shifted an awful lot recently – so our customer journeys, and the touchpoints that form them, have become more fragmented.
Studying each media touchpoint in isolation is too restrictive – instead, it's safer to view the digital space as an ecosystem, with your audience at the center.
Let's take sports viewership as an example.
At least half of people watching sports games will also be engaging with other media types at the same time.
Watching the game is just part of the whole experience, sparking new messaging and engagement opportunities.
Media planners need to approach media management in a more holistic way.
With a harmonized data set, data on every channel, medium, audience, you name, it is collected and processed using the same methodology. That means it's all comparable, bringing the grey areas between channels into focus and opening up a new world of cross-channel analysis.
Creative agency case study: YW Istanbul
For YW Istanbul, the Turkey-based creative agency, with just a handful of clients to their newly-established media department, they needed something to pit them against the competition in a serious way.
The challenge
For any small agency starting out, managing workload across clients is a big drain on resource – leaving little room for driving growth.
Selin Ergin Acar, Digital Media Manager, explains "we'd be dealing with two to three media plans a week, about five campaigns a month, quarterly presentations and a whole load of reporting daily, which for a small team it's hard to manage."
If they wanted to scale fast and compete against the bigger agences out there, they needed a differentiator – something to make them stand out. That's when she turned to GWI.
The action
Tapping into a wealth of data across 47 markets and 40,000 data points on every and any audience they needed, making an impact was suddenly a lot easier.
Selin explains how.
"Last week, we presented to a well-known ready-meal company in Turkey. A key problem for them was getting their audience accurately defined and expanding their reach among the right people. Before they met us, they'd been looking too broadly. We defined their audience using GWI, found specific interests and affinities to match against them and uncovered some crucial things.
First, 90% of the target audience liked cooking – so we created Facebook advertising leveraging this insight. The results speak for themselves and prove why blending data for accuracy is so key:
We reached about 6 million people with just 300,000 Turkish lira – before, they'd reached 5 million people with one million lira."
Once they had their audience research process nailed down, they were able to replicate it for other pitches and clients. It looked a little something like this: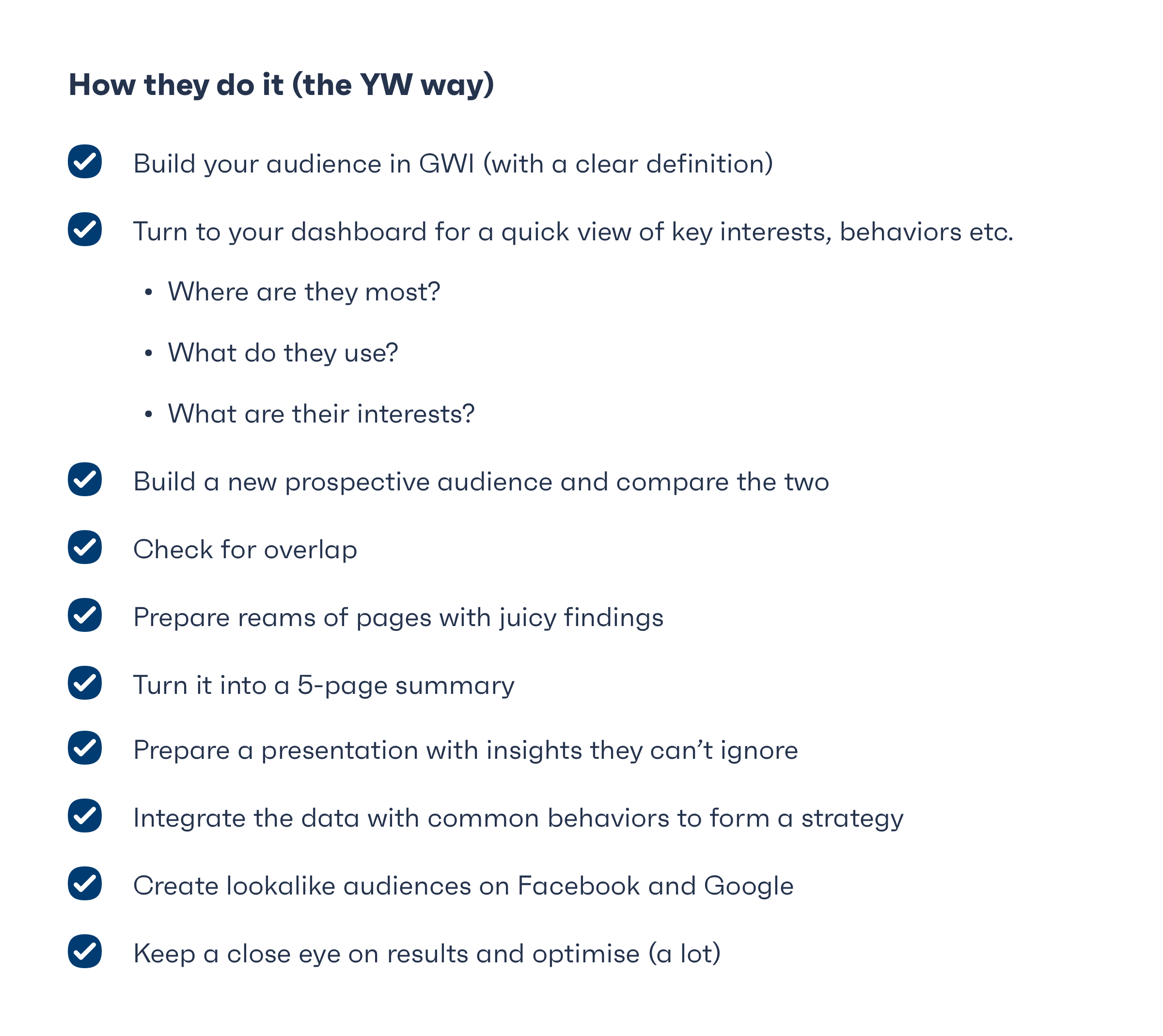 The result
No strangers to leveraging all kinds of data to drive success, they made GWI their focal point for everything audience-related – leading to an instant rise in new business and campaign success.
Increasing revenue by 100% and doubling headcount in one year, they put their impressive growth solely down to their innovative use of the right data.
Digital media planning is (re)finding its feet
With all the challenges facing today's media planners, one cornerstone rule should stay top of mind: keep consumer interests at the core.
The world of digital advertising has to move with consumers – and consumers move fast.
Monitor their new behaviors, spot the relationships between media channels, but also look deeper into the key attitudes and perceptions that drive the decision to watch, engage and purchase.
Digital media plans should be designed to cut through the growing noise and clutter of the online world. And with the right data at your side, the answers you need to do just that aren't far away.
For agencies like WeAreSocial, Southpaw and YW, market survey data gives them a level of clarity and security over their audience and channel research that first party data can't. It allows them to produce better results, and because they're on the sharp edge of technology and legislation, they're indispensable to their clients.