It's not hard to see why Snapchat is rarely out of the digital headlines at the moment.
According to GWI's data, it's the fastest growing social app out there. More than half of its users are aged 16-24. And among US teens, it's more popular than either Facebook Messenger or WhatsApp.
But while these are pretty compelling insights for any planner, here are three facts you really should know about Snapchat.
1. Teens don't really care about Snapchat's privacy credentials
Sure, Snapchat made its name as the app with self-destructing, non-permanent messages. It was the perfect solution to a Facebook-fatigued demographic who liked the ephemeral nature of what Snapchat was offering.
But times have moved on and so has the teen audience. Ask teens why they're using Snapchat now and privacy comes bottom of the list (in fact, they're typically behind average on any question relating to privacy).
Now, teens are using the app because it's fun, because it's free and because lots of their friends are on it. So, don't expect a campaign centered around privacy to resonate especially strongly with this demographic.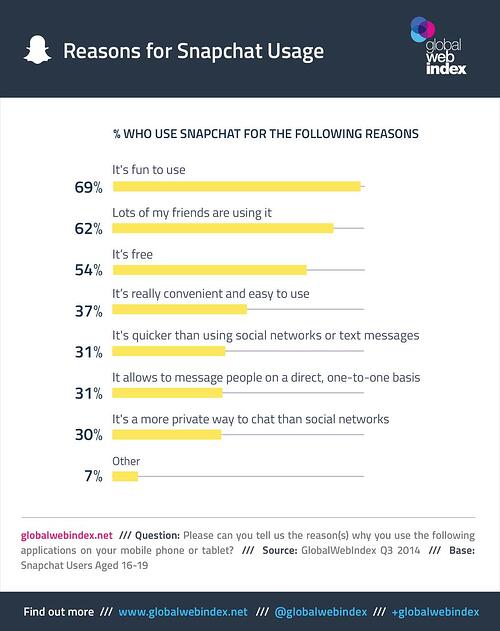 2. Snapchat's global reach is still quite small
In some markets, Snapchat has become wildly popular with teens; in others, it's barely registered on their radar.
Overall, just 14% of teens are Snapchatting, putting it behind WhatsApp, Facebook Messenger and even Skype. That means it's the reach of Snapchat in certain markets which matters; in the UK, Ireland, Sweden, the US and Canada, for example, more than 30% of this demographic are on Snapchat. These are the key markets to target.
3. Teens Love Exclusive Content
When we ask people what would make them most likely to promote a brand to others, teens show the biggest over-index of all for exclusive content – e.g. music.
Little wonder that Madonna's premiering new videos via the app, then, or that Snapchat has been working hard to introduce the new "Discover" function. For a demographic that loves being entertained by brands, Snapchat provides an extremely important channel.
Want more insights on the Snapchat audience? Explore our relevant questions on the PRO Platform