When reports emerged last month that Snapchat had completed a large funding round based on a valuation of $20billion, some were surprised that the messaging platform could be worth so much. But GWI's research shows some key reasons why such a lofty valuation is justified.
1.     Snapchat usage has grown 300%+ in 3 years
That Snapchat has been one of the big successes in social media in recent years is no secret. As GWI's data shows, the platform's growth since 2013 has been striking. In particular, 2015 was a bumper year for Evan Spiegel's app; across this year the platform doubled its engagement rates. Despite this impressive growth, Snapchat may still post modest scores on a global scale but as we'll see below it's where the platform has been booming – and among what audiences – that is key.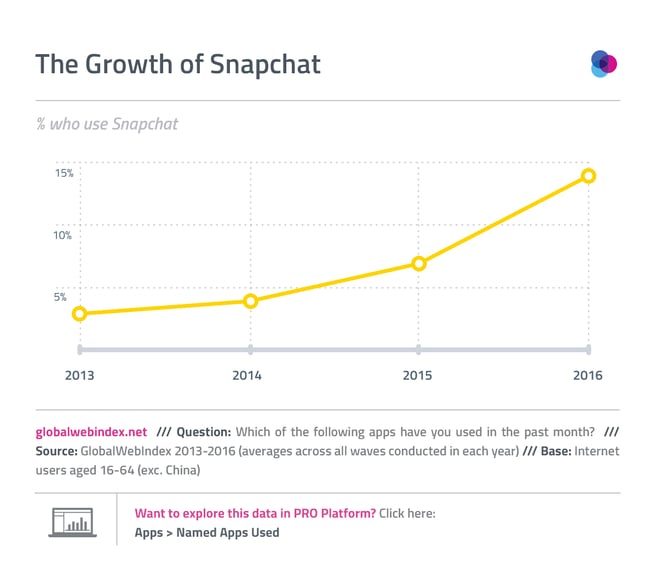 2.      Half of online teens now have a Snapchat account
Snapchat's true power lies in its demographics and, specifically, its appeal to the youngest internet users. Among the much sought-after teen demographics (here 16-19 year-olds), it's now 1 in 2 who have a Snapchat account at a global level and in North America this figure reaches as high as two thirds. Such high penetration rates among the online teen population help explain the buzz surrounding Snapchat currently but also point towards the future potential of the platform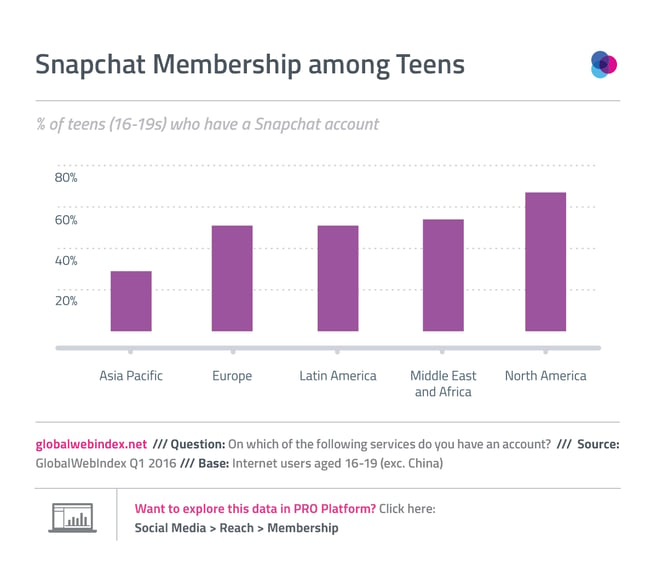 3.      1 in 2 Snapchat adult account holders are 16-24
All this means that Snapchat can boast one of the youngest users bases of the 30+ major social/messaging apps tracked by GlobalWebIndex. Close to half of Snapchat's adult members are aged 16-24, with over three quarters aged under 35. This demographic differences from many other platforms is stark – almost half of Facebook members are 35 or over, for example.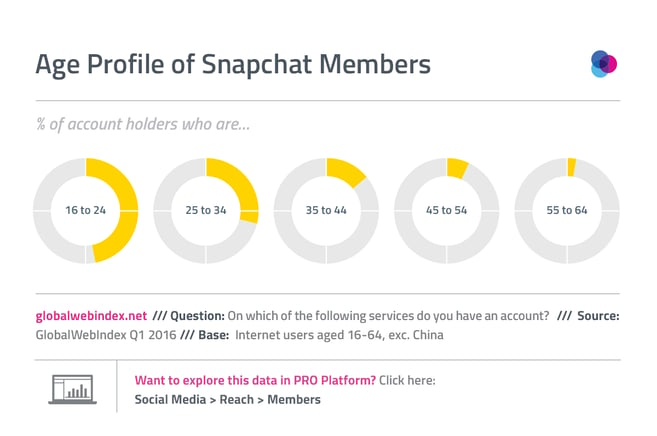 4.     Half or more of 16-24s in USA and Europe are Snapchatting
Beyond simple membership rates, Snapchat can also claim that a large amount of young internet users in key markets are actively using the app each month. And it's in mature, Western markets where Snapchat has really been a hit. Usage among 16-24s reaches almost 6 in 10 in Belgium and Ireland, with equally high rates in key markets like the UK, Canada and the USA. Together, these countries represent some of the largest advertising markets in the world and with a firm grasp on the youngest, trend-setting, demographics in these countries, Evan Spiegel can be confident in the $200m price tag affixed to the Snapchat brand.