Despite tablets seeing some rapid growth in the early years of this decade, GlobalWebIndex's research shows they are now hitting something of a ceiling. It's certainly too early to proclaim the 'death of the tablet' but the excitement that greeted the launch of the first tablets, and particularly the iPad, is a faded memory. Have tablets failed to become little more than nice-to-have devices?
1.     Ownership figures have peaked
Tablets have come close to achieving mainstream status, but not quite – it's slightly less than half of internet users who say they personally own a tablet. But a closer look at these figures shows that interest in tablets is waning. While at the start of 2015, it was 47 percent who owned a tablet, that figure has now fallen to 42 percent. This trend if particularly striking if we contrast this with the growth of smartphone over the same period (up over 10 points).
Demographics are key here. In particular, while tablets have made an impact among older demographics (especially parents) and higher income groups, they have failed to entice younger digital consumers. As we'll see below, smartphones are the major challenger here, and if tablets can't convince young demographics of their worth, the downwards trend in ownership figures will only continue.    
2. Usage is declining
Of course, you don't need to personally own a tablet to use it. But even when it comes to usage figures we have seen a clear peak. While tablet usage grew strongly in the early years of the 10s, 2016 has been the first year that figures have declined. Again, that younger users lag behind here is key. Also important are the lower figures we see among consumers in emerging markets, where millions of new internet users are coming online each year and where smartphones reign supreme.
3. Only 4 percent say tablet are most important device
One reason why we can expect this decline in tablet adoption to continue is that these devices have failed to attain a sufficient level of importance as internet access points. When GlobalWebIndex asks internet users what are their most important devices for getting online, it's only 4 percent who identify their tablets as paramount. And even among tablet users themselves, it's only about 1 in 10 who say their tablet is their most importance device. Clearly, they have never become the essential devices that some predicted they would be.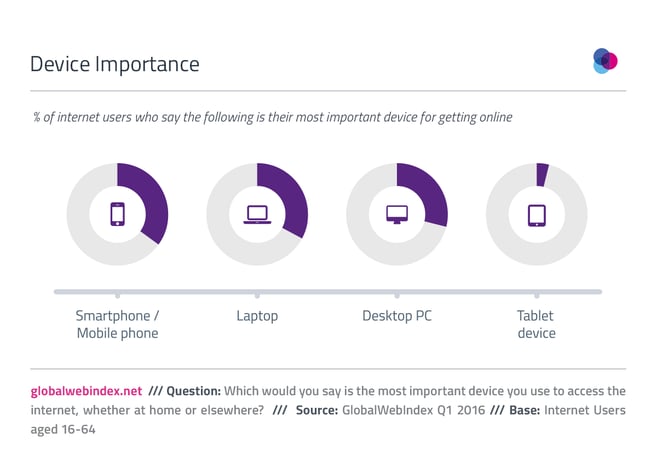 4.     Tablet declining as second-screening device
One traditional stronghold for tablets has been the arena of second-screening. Within this context, tablets can play to their strengths (larger screens, access to wifi etc.) but even here we are seeing tablets falter. Fewer and fewer tablet users are turning to tablets to dual-screen. Again the challenge of the smartphone shines through here, as these devices are now by far the most popular choice for second-screening among tablet users.
5.     Tablet users more likely to use smartphones for most activities
As we've seen, many of the reasons behind the stagnation of tablet adoption can be traced to the evolution of smartphones. As these devices expand their functionality (and their size), mobiles provide an ever stronger competition to tablets for internet users' attention. A glance at the figures for online activities of tablet users confirms this conflict. There are only three categories (significantly, all relating to entertainment) where tablet users are more likely to be engaging via a tablet than via a mobile. To drive ownership figures forwards, tablets will need to convince consumers that they provide a higher level of functionality than mobiles. And considering current tablet users choose to turn to their mobiles for the vast majority of online activities, this is a conflict that tablets will struggle to win.