The second leg of GWI's Asia tour saw our trends roadshow rolling into Singapore – with TODAY, Tech in Asia and Stuff among the audience for our presentation on the latest figures and behaviors for mobile messaging (both globally and within the local region/market).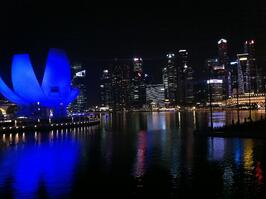 If you haven't visited before, nothing can quite prepare you for the sheer urban audacity of downtown Singapore, where skyscrapers tower above you and the streets are filled with people swiping their phones or breaking a sweat on an organized run (little wonder, then, that our data shows 16% are using health and fitness apps each month).
The huge business community is one of the reasons why Singapore is fairly unique within the APAC region – something we discuss in our new Market report on the country, released this week (you can download it here). Not only is its age profile older than most if its neighbors, its consumers are also more willing to splash the cash on iPhones and iPads – with the Apple brand continuing to do much better in this marketthan in Asia generally.
Indeed, this is one of the few countries among our 32 where iOS for the iPad continues to fend off the challenge presented by Android. Over the last few years, though, Apple's share has been falling while Android's has been in the ascendancy – suggesting that, even in Singapore, Apple will soon lose its crown.
This market's love affair with tablets in fact sees it topping the table in terms of ownership – a mighty 60% say that they personally have one. It's also a (very) close second to China for smartphone ownership (that more than half of the mobile audience is already using 4G is almost certainly one of the contributors to this). The ubiquity of these devices is clear if you ride the MRT; almost everyone seems to be killing time on one of them.
Next stop on the tour will be Indonesia – and I'll be posting an update from there in the coming days.