From a marketing perspective, the term Millennial is increasingly becoming synonymous with mobile. And for good reason – almost 90% own a smartphone and these internet users clock up on average over 3 hours per day online via mobiles (rising to over 4 hours in Latin America and the Middle East). That means they're spending up to 5x longer per day online on mobile than older age groups.
Understandably, this enthusiasm for smartphones is having a huge impact on their online activities. Our latest research shows that Millennials overwhelmingly cite smartphones as their most important device for getting online, and we're seeing more-and-more staple internet activities take place on mobile.
The key selling point of smartphone connectivity for this group is in allowing them to do what they want online, when they want, and wherever they want. Social activities play a crucial role here. In fact, Millennials are now almost as likely to be social networking via a smartphone as via a PC/laptop. And as mobiles continue to shape the internet landscape for younger demographics in fast-growth markets, we can expect mobiles to overtake computers here.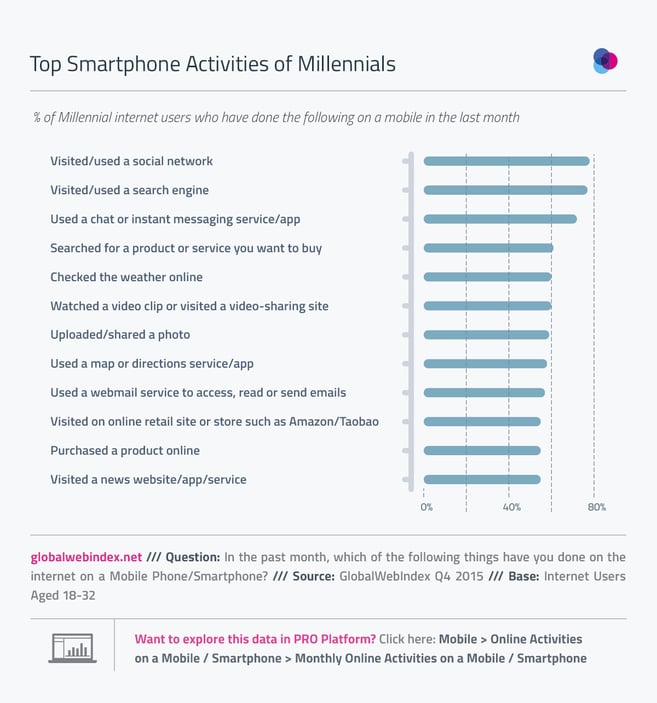 Social isn't the only space to watch: M-commerce is booming among these digital consumers, and still has much potential to grow. Overall, 8 in 10 Millennials are buying a product online each month, and over half are choosing to do this on a smartphone. What's more, there is clear opportunity for social integrations here. Already big in Asia, social commerce is beginning to develop in western markets (especially with Facebook Messenger's much anticipated integration of brands into its platform). As mobiles gradually become the key device for social activities, the opportunities for social commerce on smartphones will no doubt increase.
Last, but not least, there's entertainment activities. In particular, smartphones are fast-becoming the go-to device to watch videos online. 6 in 10 Millennials are watching videos on their mobile and the potential here can be clearly seen in the striking growth rate of YouTube visitation on mobile since 2012. About 60% now visit YouTube on mobile each month, peaking at over 70% in Latin America. With such high figures, it's easy to see why YouTube has geared its service towards a mobile-friendly platform.