Despite increasing competition from Facebook and Twitter, YouTube remains the default site for most internet users looking for video online.
With its 10th anniversary fast approaching and rumors abounding that the site will launch an ad-free subscription service, here are four key trends to know about YouTube.
1. More internet users visit YouTube each month than Facebook
When tracking social platforms, understanding the different ways in which users are likely to engage with them is key. That's particularly true for a service like YouTube, where many people are visiting the website and watching videos without ever signing in (or indeed registering). In fact, for those simply wishing to view content, not having an account in no way diminishes the user experience.
This is one of the key reasons why YouTube (82%) is ahead of Facebook (73%) for monthly visitors. Facebook might still lead on metrics such as membership and active usage, but YouTube can legitimately claim that it regularly engages the larger audience.
2. 8 in 10 visit YouTube but only 24% think of themselves as "active users"
YouTube may be able to boast high visitation rates but when we turn to the more traditional metric of MAUs (monthly active users), its figures drop significantly. In fact, it's only a quarter of internet users who consider themselves to be 'active' on the video site.
That YouTube has more than 3x as many visitors as it does individuals who think of themselves as active users shows that many see YouTube as a site to visit rather than a platform to contribute to or interact with.
Such passive forms of usage by non-logged-in visitors might frustrate an Atlas-style ad platform but the fact that YouTube can reach hundreds of millions of additional individuals beyond its active user base is very good news.
3. Mobile is the Future of YouTube
When we look at the quarter-by-quarter data for YouTube access by device, it's clear that mobile is fast becoming the home of online video.
While the percentages are flat via PCs/laptops and climbing very gently via tablets, mobiles have experienced a rapid uplift – from 27% in Q4 2012 to 39% in Q4 2014. To put that another way, 6 in 10 of the platform's total audience is now visiting via mobile at least some of the time (up from 40% in 2012).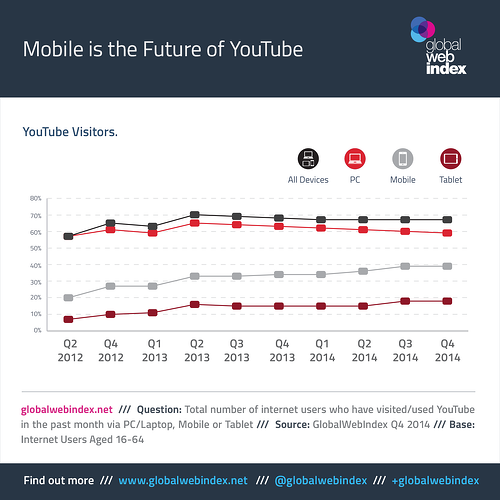 4. One third of YouTube visitors have used an adblocker in the last month
Adblockers present a significant challenge for YouTube, with online tools such as Adblock or uBlock preventing adverts from being displayed before videos and cutting into the YouTube monetization model.
Significantly, GWI's research shows that one third of YouTube visitors are also regularly using adblockers. Usage peaks among younger users (one of the most important demographics for YouTube) as well as in mature countries. Clearly, more needs to be done to convince these users that advertisements can be entertaining, informative and, most importantly, unobtrusive.
Want more detail on these trends? Download our GWI Social, Social Media Engagement or Online Privacy reports, or explore the relevant questions on our PRO Platform.